Visit Milkweed Cottage during NH Open Doors, Nov. 8-9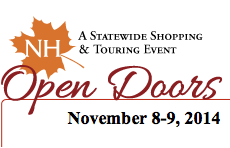 I'm pleased to announce that this will be my second year participating in NH Open Doors! The studio will be open to the public during the weekend of November 8th and 9th from 10am-4pm. I'll have lots of colorful glass jewelry including some new designs fresh from the kiln. Check out their website for info on others who are participating, and plan a day of it.
Looking forward to seeing you!